1.Spiritual Awareness Against Influenza A (H1N1); Published by Swami Vivekananda Yoga Prakashana, Bengaluru – 2010.
Description :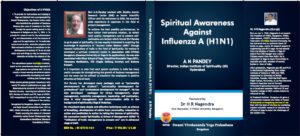 The book deals with Spiritual Awareness and its application, Spiritual Perception on world Health Organization's Approach, Spiritual Role in Managing Pandemic Swine Flu or Influenza A (H1N1), Spiritual Approach for Preventive measures, Spiritual Approach for curative measures, Spiritual Awareness to increase Human immune system, Spiritual Analysis of Danger sign and Symptoms, Vegetarian approach in times of Influenza A(H1N1) and Combined role of East and West. The book describes how yogic approach is affective to tackle swine flu and how the same can work as alternative to the medical treatment.
2. Yoga – A solution to manage Post Nuclear Leakage Crisis; published by Swami Vivekananda Yoga Prakashana, Bengaluru – 2013
Description –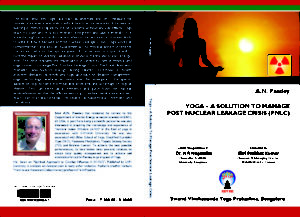 The nuclear crisis happened at Fukushima (Japan) because of Tsunami and earthquake, forced the thinker to find the solution (if any) to tackle such kind of eventuality. The nuclear crisis can't be totally eliminated as many countries in the world have nuclear installations and nuclear armaments. They are Prone to face nuclear crisis once in blue moon (though we don't wish) as natural calamities are beyond Human control. The question may be put up weather we have to live with this kind of Crisis or any solutions can be explored?
Luckily, Yoga seems to be a solution to manage this kind of Crisis by elaborating the Yogic concept (work as preparedness) even after the mishap. An attempt has been made to prepare a book entitled 'APPLICATION OF YOGA DURING NUCLEAR CRISIS'.
The book elaborates about the radiation effect during crisis, how yoga is scientific and the utility of yoga to minimize the effect of radiation during and after the crisis. The book exhibits the authentic approach of Yoga to manage the Post Nuclear Leakage Crisis. The book also provides the methodology for rehabilitation after disaster management (due to nuclear crisis).The book consists of pictorial view of certain themes of Yogic concepts, which provide the clarity in the minds of the reader in nutshell.
3. The Power and Limitation of Kriya Yoga (Paperback book) published by create space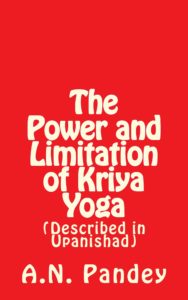 Description –
In the age of internet, nothing can be kept secret; hence it is better to know its boons and banes fully while practicing the same (Kriya Yoga). Last few years, Kriya Yoga has become the hot cake in spiritual world as the aspirants have been given the exposure of its benefits only. The banes of Kriya Yoga (if not practiced correctly) have not been elaborated; hence the performer of Kriya yoga might get in trouble in due course. However, Yogada satsang provides all precautionary measures if the same (Kriya Yoga) is given by authentic masters. Because of curiosity and urgency to take up Kriya Yoga by the aspirants, there is probability to do some mistakes while practicing the same; even though, correct methodology has been given by the master.
This book is an eye opener to all the Sadhakas of Kriya Yoga. This provides the inbuilt corrective approach in the minds of Sadhaka, whether the method adopted in Kriya Yoga is fully correct or any mistakes is being carried out? This book also brings mile stone or yard stick to the seeker by cropping its results in terms of benefits. This book works like an alarming bell against its caution or warning provided in MN -70 of Yoga Chudamani Upanishad. To gain the maximum benefits of Kriya Yoga, the book is placed before the reader without having any likes and Dislikes against any cult or master of Kriya Yoga. The book consists of 35 images which describe the theme of each topic in brief for the better clarity of the reader. Importance of Kriya yoga for the scientists is the main attraction of the book.
      This book is available on amazon.com, amazon.uk.com and amazon.de 
 4. Common Platform for Science and Spirituality (Paperback book) published by create space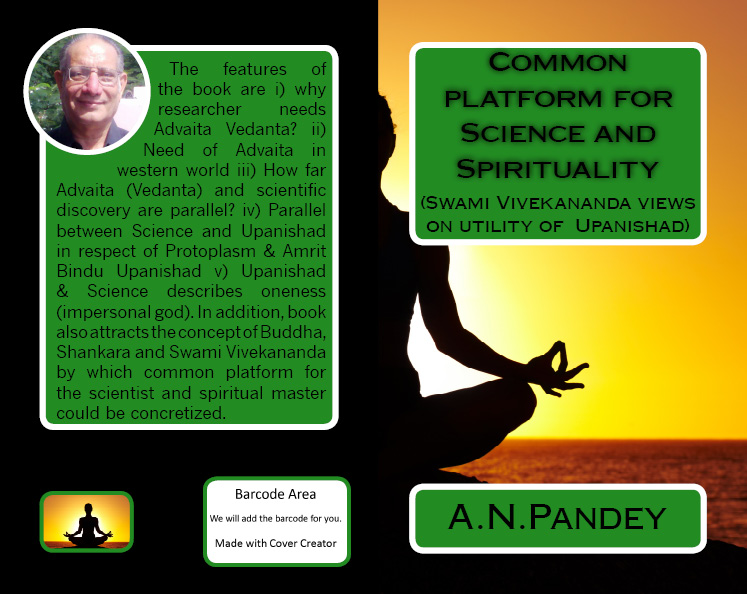 Description: 
     The science is in search of truth and gets many innovative concepts while discovering the truth. The spiritual masters or seers have already discovered the truth (supreme reality). Unless, they (scientist and spiritual master) exchange their views or findings in a scientific language, the benefit of both the domains will not be useful for human beings. A common platform is needed in the present era; for which Swami Vivekananda has given the sufficient explanations more than 150 years ago.  
     Swami Vivekananda delivered his talk at London in 1896 (ref. complete works of swami Vivekananda, volume II Chapter 6) where he talked about i) Materialism  ii) Meaning of duality iii) How dualism affects the researcher? iv) How Advaita can encircle the religions? v) Need of universal religion vi) How Advaita viewed by Buddha? vii) Importance of Advaita and viii) how scientific concept and Vedanta are parallel or closer? About more than 150 years ago, Swami Ji has visualized the common platform for the scientist and also for the spiritual masters to have a dialogue and exchange their views.
          This book is available on amazon.com, amazon.uk.com and amazon.de
5. Status and Empowerment of women viewed by Yoga (Paperback book) published by amazon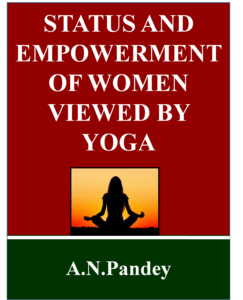 Status and Empowerment of women viewed by Yoga consists of seven chapters and 41 images. It is interesting to note that factors like courage and confidence are the primary one for women to act upon the process for uplifting the status and getting empowered. Eye catching subjects like Scientific approach for upliftment of status & empowerment of women and Why women should adopt Yoga & Meditation are described in the book.
This book is available on www.amazon.com. For more details, please click the below link.
https://www.amazon.com/dp/1718625162/ref=sr_1_2?ie=UTF8&qid=1525414711&sr=8-2&keywords=status+and+empowerment+of+women+viewed+by+yoga